Composed by a team of four women, GreenBytes is a start-up based in Iceland whose objective is to reduce food waste from restaurants while increasing their profit margin. It is a tool so tackle one of the most challenging sustainability problems in the world: food waste.
Spotted by Andrés Felipe Laverde Martínez
Renata Bade, from Mexico and Jillian Verbeurgt, from Canada, have backgrounds in engineering and computer science and founded GreenBytes as a tool so tackle one of the most challenging sustainability problems in Iceland and in the world: food waste.
The problem
It is estimated that approximately a third of the globally produced food for human consumption is wasted, accounting for about 1.3 billion tons of food annually. In the Nordic countries, annual food waste is approximately 3.5 million tons.
The consequences of food waste are enormous since it is a problem in multiple levels of the supply chain and the environment, from land use and deforestation to food insecurity and economic losses.
According to Nordic Energy Research, about 30% of the food waste in Nordic countries is incinerated, causing increased emissions. Moreover, food waste results in a significant economic loss due to unused materials that need additional processing, transport, and disposal. For this reason, GreenBytes emerged as an alternative solution to this problematic, confronting it from the root.
Founders of GreenByte: Renata Bade and Jillian Verbeurgt
The innovative solution
GreenBytes is a restaurant management tool that optimizes raw ingredient orders by utilizing AI-based order suggestions based on the restaurant's menu to predict future sales.
GreenBytes' app assists restaurant management with automated stock trading, optimized ingredients orders and a better tracking of the inventory. The objective is to encourage restaurant owners and managers to order the right food amount. Thus, the right amount of ingredients results in less food waste.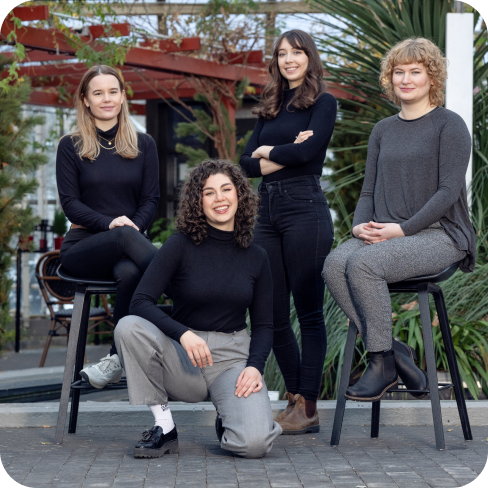 Out-of-the-box thinking
According to Renata, GreenBytes CEO:
"The system can reduce almost two tons of food waste in one restaurant in one month. This means reducing greenhouse gas emissions, land usage, water usage, biodiversity loss and even hunger".
With its innovative AI algorithm, the app can predict future sales at the restaurant by taking into account past sales, weather, and other relevant parameters. Greenbytes uses a Recurrent Neural Network to estimate how much food the restaurant should be ordering, helping food retailers reduce food waste and increase profits.
A breakdown of the restaurant menu tells what raw ingredients are necessary, and the algorithm calculates the right amounts of each ingredient for future orders. To help restaurants even more, once the system has calculated the amount of ingredients, it automatically sends the order to the distributors.
Future
As of October 2022, GreenBytes announced a funding of 1M€ from a pre-seed round led by the Icelandic VC firm Crowberry Capital, with the participation of APX and other investors in Germany.
Jillian, GreenBytes CTO, says that they can "use the investment to grow by further developing the tech and starting to enter the German market".
With this new capital investment, GreenBytes will accelerate its growth and help eliminate food waste from restaurants in Iceland and Europe in the future.
Read more about GreenBytes here: https://greenbytes.is/