PUBLIC SHARES
Buy a public share and support NUKIGA's work
Buy a NUKIGA public share
When you buy a NUKIGA public share, you support our non-profit work with startups and small businesse in the Arctic as well as our work to increase awareness of the rich and diverse Greenlandic culture. Read more below.
Gold share: DKK 10,000 / EUR 1,350
About the artist:
Sissi Møller was born in Sisimiut and grew up in Nuuk, Greenland. She is educated at Nuuk Art School and Copenhagen Art School. Sissi works with a spontaneity that is allowed to flow in forms and movement. Bluish shades appear a lot in her work, inspired by the Greenlandic nature. The work is called Tåge (Fog).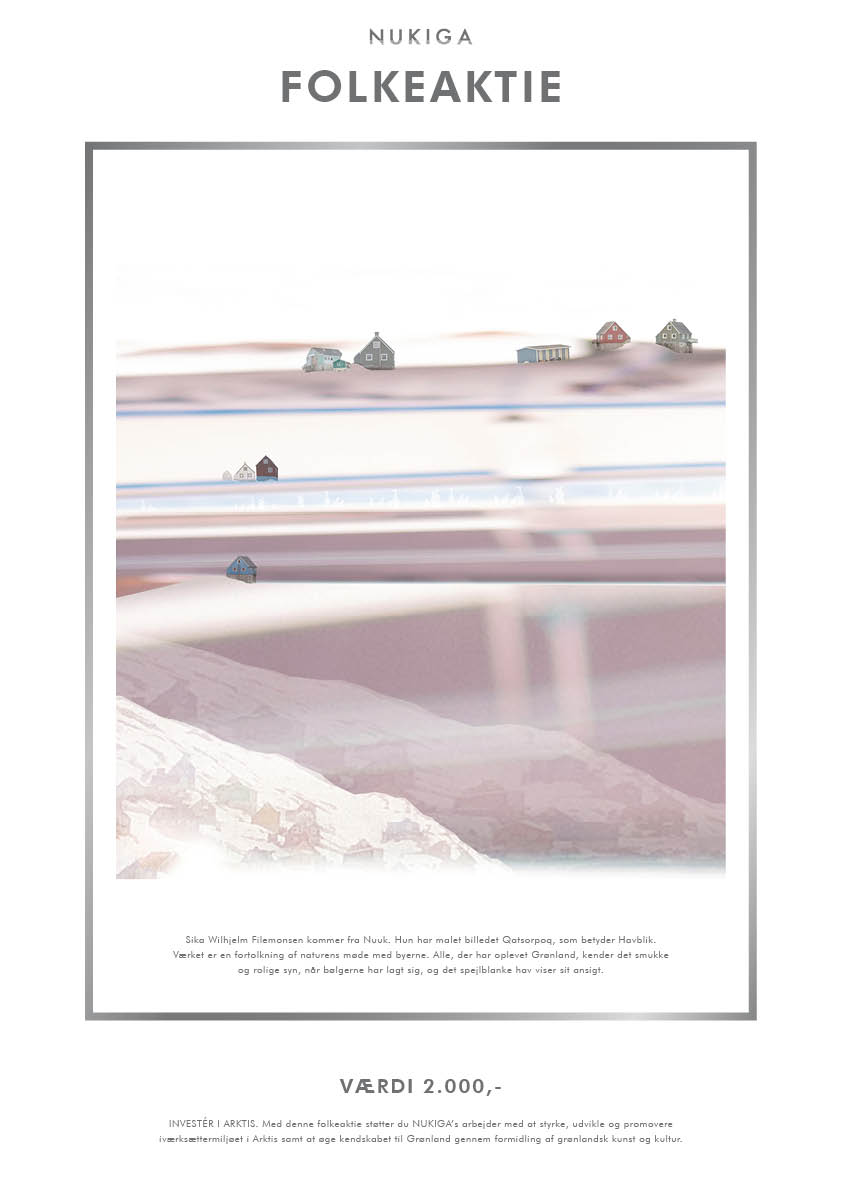 Silver share: DKK 2,000 / EUR 270
About the artist:
Sika Wilhjelm Filemonsen comes from Nuuk, Greenland. She has painted the picture Qatsorpoq, which means Sea View. The work is an interpretation of nature's encounter with cities. Anyone, who has experienced Greenland, knows the beautiful and calm sight of the ocean when the waves have calmed down and the mirror-like water shows its face.
Bronze share: DKK 500 / EUR 70
About the artist:
Sara Petersen was born in the village of Ammassivik near Kangerluk, Greenland. She has painted her grandfather, who is a fisherman and a sealer. She says that he is always happy and a person you want to be with. Sara loves to paint and prioritises doing it as often as possible.
About NUKIGA public shares
When you buy a public share in NUKIGA, you support our work to strengthen, develop and promote the entrepreneurial environment in the Arctic and to increase awareness of Greenland through the dissemination of Greenlandic art and culture.
Please note:
A NUKIGA public share is not a stock that gives you return on investment but should be considered as a sponsorship to support NUKIGA's work in the Arctic.
Would you like to buy a public share?
If you want to buy a public share and support our work, please send an email to sho@nukiga.dk with your name, address, and what type of share you want to buy, and you will receive further information. 
The public shares will be printed in A4 format on good quality paper and sent directly to your home (at addresses outside Denmark, a fee may be added for shipping).