SDG4: Quality Education
Ataatsimut means togetherness. Based in the Inuit tradition that everyone is a teacher, everyone is a student. This campaign aims to bring the Greenlandic language back to life by encouraging high school students to expand our language with word creation competitions.
Bringing the Greenlandic language back to life
Twice every year all high school students will be given a challenge to create new words to replace those borrowed from Danish and fill the gaps in our language evolution. The students along with the help of linguists and knowledge keepers will compete and vote for their favourite submissions.
Our promotional campaign will be done by highlighting the Greenlandic language by providing stickers with Greenlandic words to bring the language front and centre.
Subsequent phases include the creation of word games and spelling mosquitos (bees) to celebrate the language and promote the use of the evolving language and allow participation of every single Greenlandic person.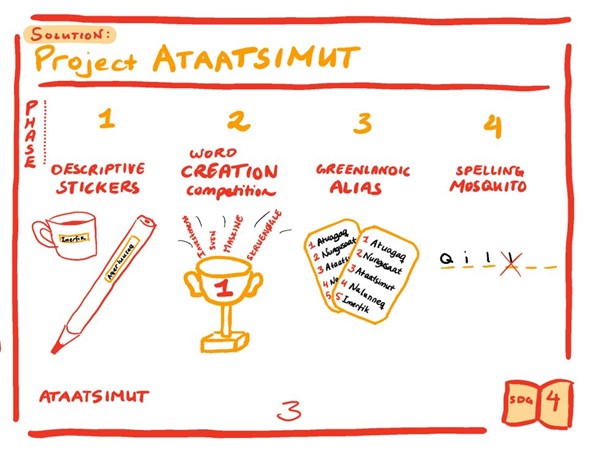 Our language is our identity and culture
Ataatsimut: Reviving our language together. The impacts of our campaign will help the youth reclaim their language. Language has always been the holder of Inuit identity and culture. We believe empowerment through language will impact education, mental health, and suicide prevention.
By allowing the students to become the teachers of the Greenlandic language through Ataatsimut, youth will be empowered. Feelings of community, belonging, and capability will help students complete their education and achieve their full educational potential.
But that is not where the impacts of Ataatsimut end. Through a sustainable production campaign based in Greenland, the Greenlandic language will be uplifted. All fields of work and studies will be enabled in the Greenlandic language. The mentality that it is impossible to work and live in Greenlandic will be put to an end. Together we can bring the Greenlandic language back to the thing that unifies us and makes us grow.