Finnish sand-based heat storage to help run against the world's sandglass.
Polar Night Energy converts electricity to heat and stores it for later by using sand as the storage medium. According to Mission Innovation's report, the sand-based seasonal heat storages may save over 100 mega tonnes of CO2 annually in 2030.
Spotted by: Felippe Constancio
"Some are getting their heads off the sand and facing the issue". "It helps to delay the world's sandglass". "From ordinary sand, people are making out bright pearls".
In the following story, the humans' odyssey to manage their ultimate environmental catastrophe – as if it would not have been taking place yet – can be expressed by metaphors using "sand". And this is because a group of Finnish people is about to achieve a breakthrough in the energy sector by scaling up simple-to-make sand-based heat storage.
The group is Polar Night Energy. Their brainchild is to convert electricity to heat and store it for later by using sand as the storage medium. Sand from any morphodynamics can be used, which makes the technology cheap, safe, and approachable in different parts of the world.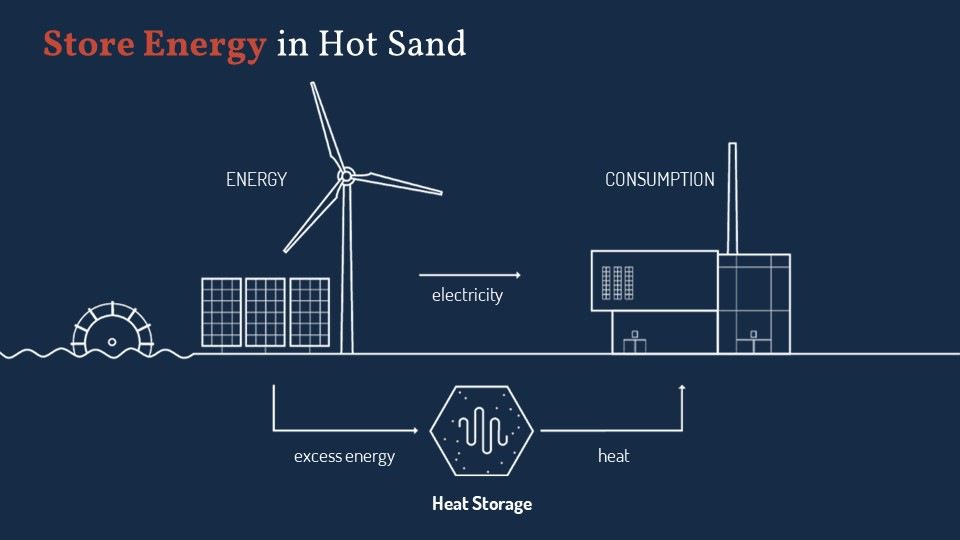 What problem does it solve?
Before jumping into how it works, it is better to understand the issue it solves. Districts and cities around mild-weather areas able to supply energy through solar or wind energy of burning fossil often have a surplus. Consequently, these zero-emission energy generators do not increase productivity during times of abundance. Burning fossils might be their only option during the darker winter days or when the sun does not show.
"We need to move fast from fossil fuels to renewable energy. And we need to find ways to store large amounts of renewable energy because of the intermittency of wind and solar. So, our patented heat storage can store large amounts of renewable energy as heat in the sand. Our solution helps to balance the grid and to move away from combustion technologies in heating", clarifies Polar Night Energy spokesperson, Miika Peltola.
Indeed, some are getting their heads off the sand and facing the issue.
How it works
Solar panels or wind turbines generate electricity and directly supply cities' and towns' demands. If a sand-based heat storage is embedded in the district heating network, the often-remaining energy is addressed to the appliance. An electric air heater converts electricity into heat by resistive heating, similar to home appliances such as a toaster. The hot air travels around a tank full of pipes and heats the sand.
As it can reach temperatures around 600o, Polar Night Energy's sand-based unit can retain heat for months or year-round.
The hot sand is not converted into electricity back again; instead, cool air is blown within the pipes when the heat on demand goes from the storage to buildings when winter comes. This is how the Finnish start-up makes greener steam available for industrial processes, public buildings, universities, and homes.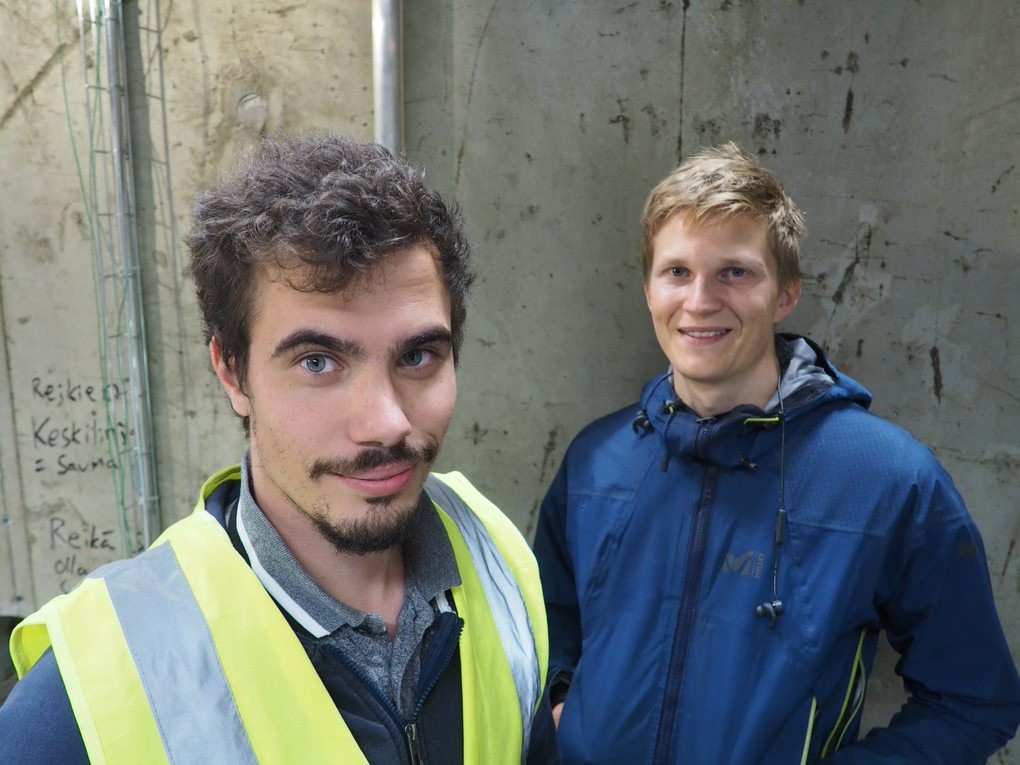 Polar Night Energy emphasises the level of replicability achieved by the simplicity of the venture. As stated by its co-founder and CTO, Markku Ylönen, "it is a typical silo" possible to be built in a regular steel workshop able to factor standard equipment. On top of that, sand is an advantage over chemical batteries, which rely on mined metals.
More than using sand from any location, the system allows prioritising upcycling of the sand discarded in the construction industry, which minimises waste. Not least, the sand-based heat storage does not use an electrolyte solution to shuttle ions around, unlike chemical storage, which is another advantage as electrolyte degrades over time.
At last, the sand storage can keep its heat retention capacity for at least 50 years, which is a good deal considering the components and materials necessary to start it, while lithium-ion batteries' lifespan is barely 15 years.
As said above, people are making out bright pearls from ordinary sand.
Where is it going
The start-up debuted the project last spring in the Finnish Kankaanpää's district heating network operator, which serves around 10,000 people. Before that, it tested its 7m tall steel silo containing 100 tonnes of low-grade sand and a bunch o pipes in Tampere city, in the Southern portion of Finland, to heat several buildings.
Kankaanpää's laurels have been crowning the Finns since then.
"We were just awarded an honorary certificate in 'The International Carbon Handprint Awards' by the Climate Leadership Coalition and The Vancouver Economic Commission. We were 'the hottest start-up in Finland' in August by the Startup100 ranking", shares Peltola with enthusiasm, pointing out the fame hit after the 'sand battery' went viral after a story by the BBC World News.
There is more to come. According to Mission Innovation's report, the sand-based seasonal heat storages may save over 100 mega tonnes of CO2e annually in 2030. As the engineering is vastly replicable anywhere around the world where there is a district heating infrastructure, figures can skyrocket if major cities such as Berlin or New York host batteries similar to the startup's latest model, which can store up to 8 megawatts per hour of energy as heat.
It may not solve the green energy generation issue, but at least it helps to delay the world's sandglass.
"The number one way to reduce emissions in the energy sector is by not consuming energy, which applies to most other sectors. We strive to get our technology proven at a large scale and be as wide as possible. Still, we hope that it is used rather to ambitiously upscale solar and wind and to even more ambitiously downscale combustion-based technologies than to enable more consumption", says the start-up's CTO.