Bolethe (Bula) Kørschen Hendriksen
I moved back to Aasiaat in October 2018 with my husband after living elsewhere for 13 years. We have lived here since.
The main reason we moved back to Aasiaat was because my parents moved back. I thought that maybe if we moved here, I would want to settle down and have children. Really get into the flow of this small town life without stress – or so I thought. Since we moved here, I have been self-employed with a few different companies. Right now we have a cleaning company, and I have a hair salon and some employees. So there is still stress and a busy life, but we have a lovely son now.
I see a lot of possibilities here in Aasiaat; I almost get stressed just thinking about how many possibilities there are, and I just want to get started on everything. It means everything to me to be able to give the town these new opportunities.
I grew up without any close siblings, so I'm more or less an only child. I was a real daddy's girl and got almost everything I wanted at times. But then my mentor taught me that you have to work for what you want. Ingeborg is the root of all good things in my life.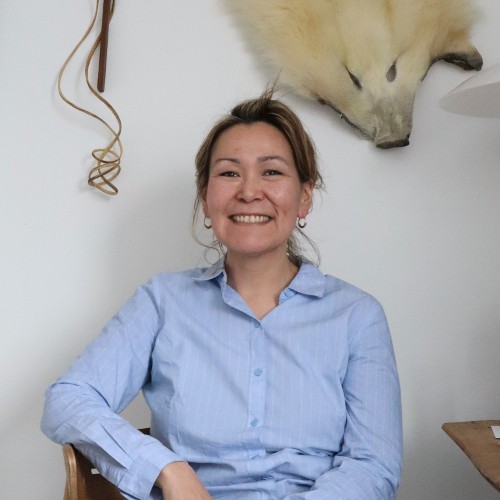 My dream of becoming a hairdresser started in the 90s when I knocked on my old hairdresser, Ingeborg's, door and asked if I could help, just to be close to her because I looked up to her so much. I didn't want a salary, but she gave me DKK 35 an hour anyway. That's where it all started. She was my mentor. She was a tough teacher, which is what I needed. I just absorbed everything.
Now I have bought the old place where I was an apprentice. When we went to see it, I got a big lump in my throat because this is where I started my education 20 years ago. It's incredible. That's where the journey started, and now we're back. Now we'll see if that gives me some peace of mind. I want to start my product series so that it can become a hair salon with its own brand and facial care line. That's a good dream.
Everything is possible, and that is what keeps us here. It's so easy and sometimes I have to pull the brakes and take a step back not to start something new. There are just so many opportunities here.