I was born and raised in Nuuk, where I lived in a children's home until I went to boarding school for a year in Denmark, and after that I moved home with my mother. Now I work as a hairdresser here in Aasiaat.
One of my friends just said to me: "You should be a hairdresser! I know you're going to graduate" and then I just thought "okay, I'll give it a try". Then I became a hairdresser.
Now I work in Cut in Aasiaat and specialize in hair colour. I started experimenting with bright colours three years ago when I was an apprentice. To start with, I tried it on myself, because Greenlandic hair is a bit annoying. It can be difficult to manage, and it is very different from Danish hair.
When I applied to hairdressing school, I tried to cut my mother's hair. It was completely crooked. She was the first person whose hair I cut. I passed the exam on the 2nd of November and got my certificate on the 30th of November last year. My graduation hat is pink and is already up on the wall. It says Dreams Come True and my name, because I have dreamt of becoming a hairdresser for a long time.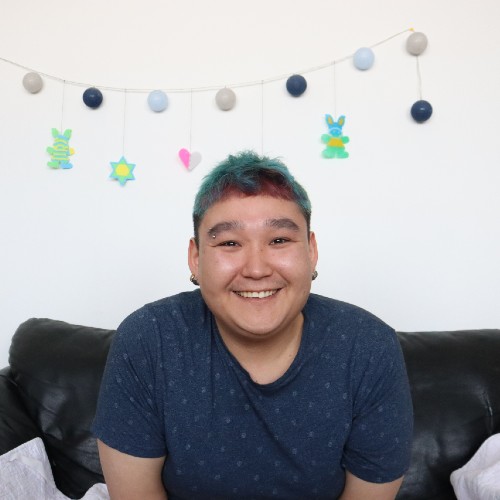 My boyfriend and I moved here in December 2017. I had to choose between an apprenticeship in Ilulissat or here. Then we chose Aasiaat because my boyfriend was born and raised here. His family, parents, and siblings live here, and I wanted to get to know them. We got engaged four years ago, but we are waiting to get married, because he is in Denmark right now.
I'm used to Aasiaat now – I feel safe here. In Nuuk we were bullied for being gay, but here it's only small children and not that often. I haven't experienced anything bad here. It's not that often you see homosexuals here holding hands and such, so most people are just curious.
We have never wanted to hide our relationship. This is our life, and if they want to bully us, it only makes us stronger. When I have time off, I'm mostly at home with my boyfriend, and I also knit. We eat with my in-laws during the weekend, so they're not alone. We are still thinking about whether we should move to Denmark.
I would like to train as a beautician if we move to Denmark, and then I want to return to Greenland and open my own beautician and hairdressing salon, because we need more of that here.
We have also talked about trying to live in some of the settlements or the other towns where there is no hairdresser. So we are thinking Kangerlussuaq, Tunu (East Greenland) or in North Greenland. We don't know where. We just want to experience it.