Einstakt is a Faroese fashion brand that makes beautiful designs, primarily out of wool. The Einstakt styles are sold in the small boutique Öström, located right at the harbour of capital Tórshavn.
This is where NUKIGA meets Beinta Poulsen, who is the founder of Einstakt, to have a talk about Faroese knitting traditions and how she honours this in her work with modern knitwear. The name Einstakt means 'unique', and Einstakt really is unique, both in the designs and in the approach to the knitting process: local Faroese women knit each knitwear style by hand.
Knitted locally
The Faroe Islands, much like Norway or Iceland, has a strong knitting tradition, and some knitwear patterns go centuries back. Each family would have their own unique pattern. These knitting traditions are very important to Beinta Poulsen.
She has a book filled with traditional Faroese knitting patterns that she looks through when she makes a new design. The first sample she knits herself by hand, then she makes the needed adjustments, and when every detail of the design is ready, the knitting is done by local 'knitting ladies'.
"There is a whole community of 'knitting ladies' here. These ladies are very skilled, and to me it makes a lot of sense to have my designs knitted locally. It gives the designs an extra 'heart and soul'," explains Beinta Poulsen.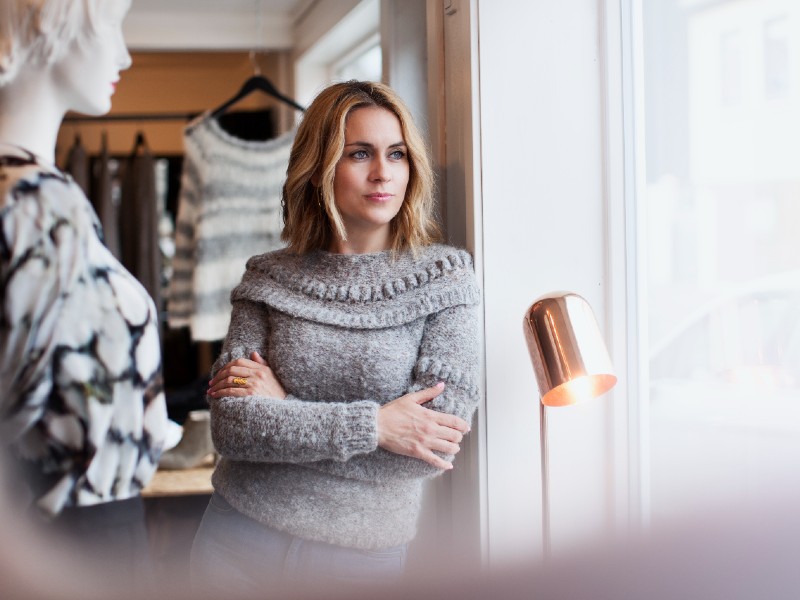 Nature is a constant source of inspiration
Nature is never far away at The Faroe Islands, and beautiful, unique landscape with green mountains, blue fjords, and grey rocks inspire Beinta on a daily basis.
"I'm constantly inspired by all the impressions I get. The colours of the mountains, the sheep, and the ocean, all these things inspire me, and nature is always very present in my designs," explains Beinta Poulsen.
Only about 5% of the wool that Beinta uses come from local sheep. The wool is simply too coarse and itchy to the skin, so she uses a lot of merino and alpaca wool instead. The local wool that she does incorporate into her designs keep their natural colour, which becomes a natural part of her design.
"To me the value of my brand is not to grow and expand, to me the value is found in the local: our traditions, the nature, and the craftmanship," finished Beinta Poulsen.
You can learn more and buy Beinta's beautiful designs here: https://einstakt.com/