Four young Faroese 10th graders, Dávur, Ólavur, Teitur and Trygvi, have made an exciting innovation that can help solve the problem of what to do with the coarse Faroese wool – acoustic panels with Faroese wool.
NUKIGA had a talk with the four young guys to learn more about their innovation.
Tell us more about your innovation.
We have invented acoustic panels by using wool as the noise-muffler. We have probably all experienced being in a room with poor acoustics and a lot of noise. It's not very pleasant. This is where our OVIS 'acoustic panels are smart as they help turn down the noise and have a good effect on reverberation and the acoustic in the room.
Today, 2/3 if the Faroese wool is burnt, but by using this wool in our product, we hope to help the Faroese wool regain the value it deserves.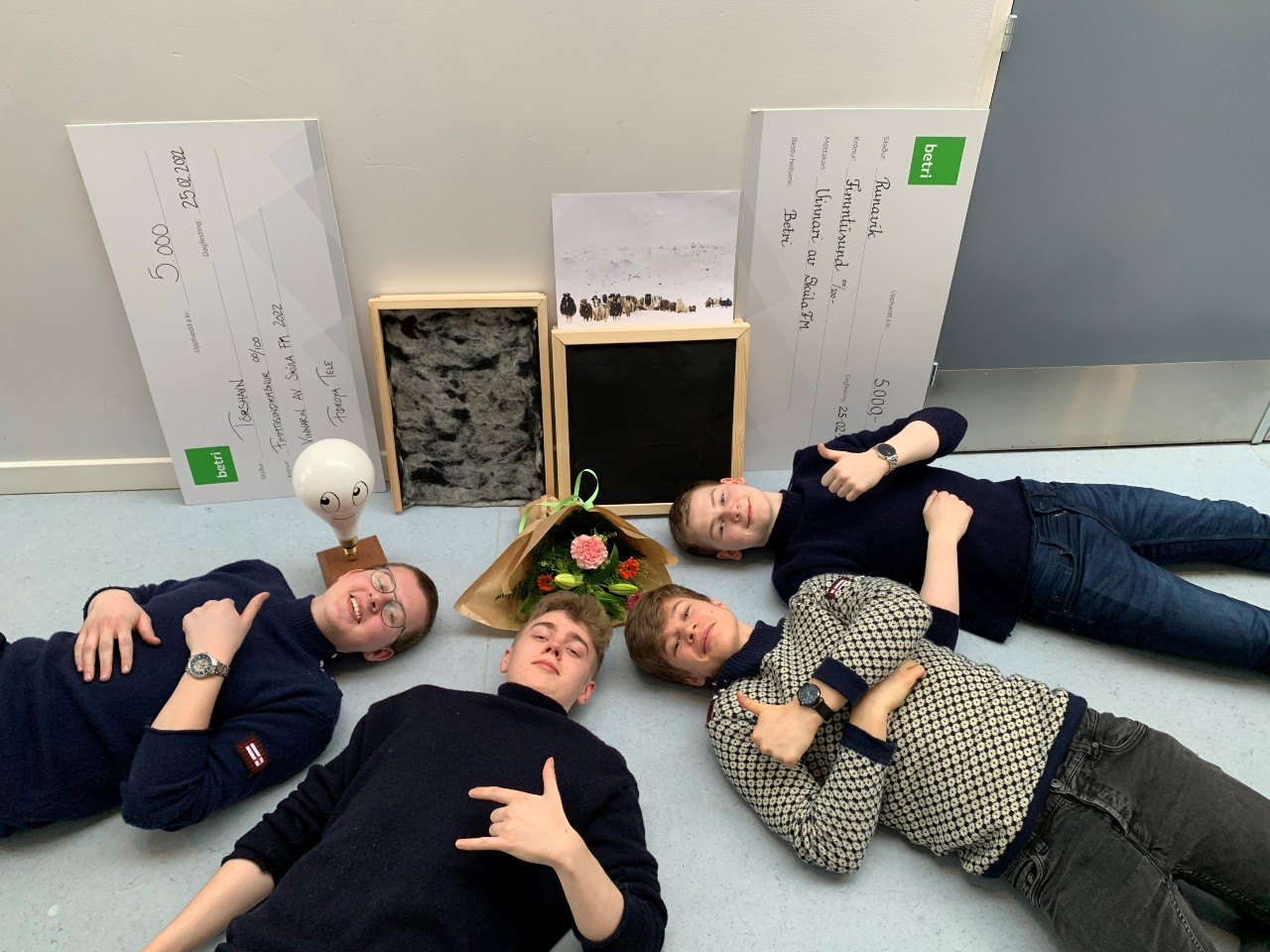 Dávur, Ólavur, Teitur and Trygvi in front of their innovation
How are the panels made?
After shearing the sheep, the process is to wash the wool, after which we have to card and full it, then rinse it thoroughly and hang it to dry. Afterwards, we fit the wool on a wooden frame.
Our acoustic panels have several options for finishing. You can choose to leave it open to be able to see the beautiful wool, you can cover it with fabric, and finally we have collaborations with some artists and photographers here in the Faroe Islands, so we can get their print on the fabric. We believe that the end-result is very beautiful.
We have created a QR code which is located on the panel frame, which will tell our customers much more about the product.
Who can use the panels?
We have made two versions: our OVIS-pro, which is primarily for studios, and the OVIS-light, which is suitable in institutions as well as for private homes.
It is different how much we are affected by noise. Some children with anxiety and autism are very affected by noise, and we have received positive feedback from several people and institutions. Our library in Runavík is also very interested in our product.
You won an entrepreneurship competition on the Faroe Islands?
Yes, we won the entrepreneurship competition, SkúlaFM 2022, where all schools in the Faroe Islands compete against each other. As a result, we had the opportunity to participate in an entrepreneurship competition in Denmark for all schools in the Danish commonwealth.
In Denmark, we were selected as one of four groups to give a pitch in front of all the participants. We won third place and will use our prize money of 4,000 DKK to further develop the panels.
What about the future?
Our plan is to continue working on our innovation after the exams. We have contact with foundations and other stakeholders in the Faroe Islands who are willing to help us get started.
We have also talked to Faroese agricultural associations, which are very willing to help us along the way, including installing a washing machine that can wash the wool here at the Faroe Islands. This will hopefully also positively affect the wool price.